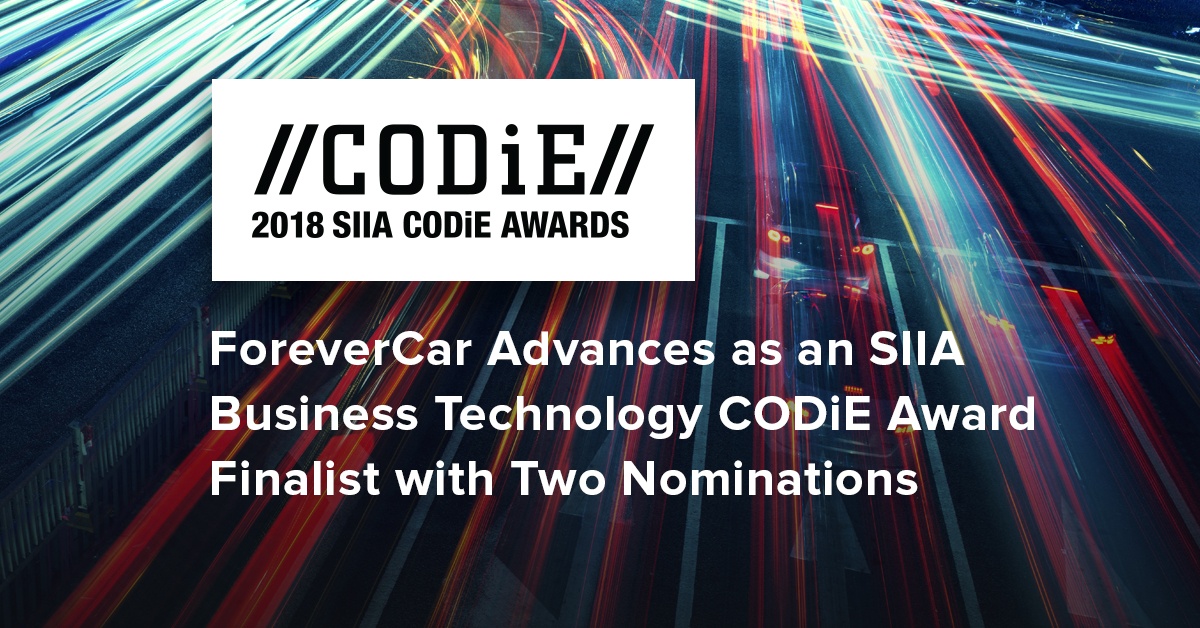 Digital innovation and transparency have been at the forefront of our mission since we set out to transform the industry. Our 1Quote platform was envisioned to provide innovative transparency and give you an easier way to decide. Today, we're proud to announce that our 1Quote platform was named a 2018 SIIA CODiE Awards finalist in both the Best PaaS (Platform as a Service) and Best Insurance categories.
The SIIA CODiE Awards are the premier awards for the software and information industries and have been recognizing product excellence for over 30 years. The awards offer 91 categories that are organized by industry focus of education technology and business technology. ForeverCar was honored as one of 167 finalists across the 52 business technology categories.
"It's a real honor to be considered alongside some of the most innovative and impactful products in multiple categories," said Kal Walkden, CTO of ForeverCar. "While being the leading technology innovator in our industry has come with certain challenges, the recognition by SIIA and the CODiE Awards is further validation of the real impact we're making."
The SIIA CODiE Awards are the industry's only peer-recognized awards program. Business technology leaders including senior executives, analysts, media, consultants and investors evaluate assigned products during the first-round review which determines the finalists. SIIA members then vote on the finalist products and the scores from both rounds are tabulated to select the winners. Winners will be announced during the Business Technology CODiE Award Celebration at the SIIA Annual Conference & CODiE Awards, June 12 in San Francisco.
For more information about ForeverCar and its innovative platform, visit our partner site or email us.