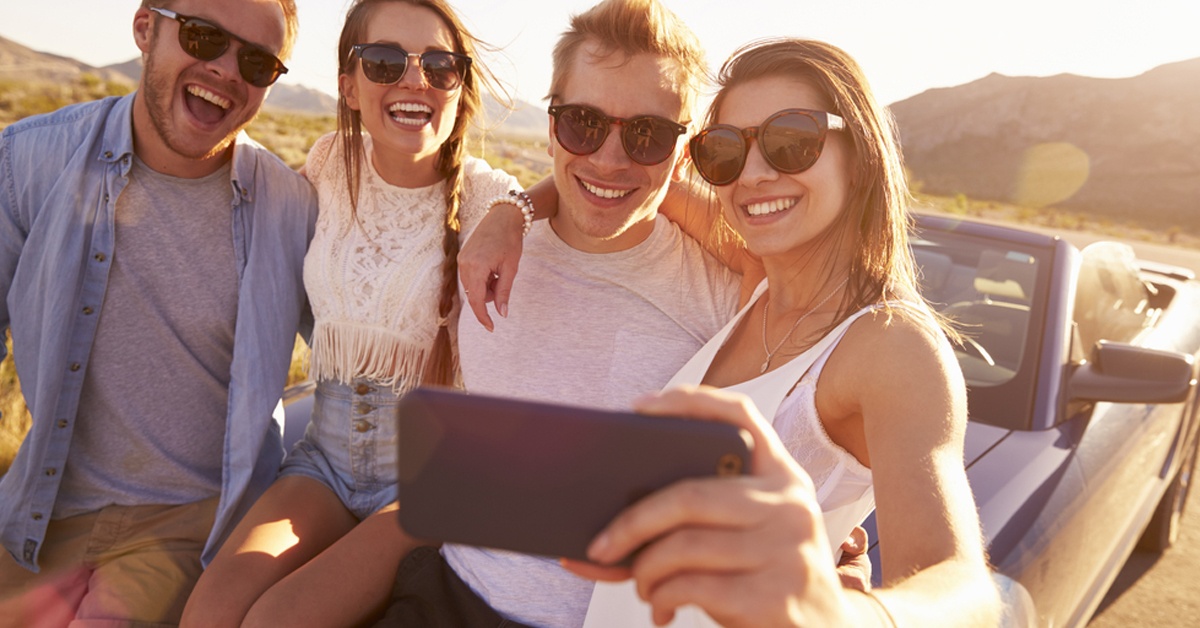 Memorial Day weekend marks the unofficial start of summer for many Americans. The kids are wrapping up the school year, neighborhood pools are opening, baseball season is in full swing, and you're planning your next summer adventure.

According to AAA, one-third of U.S. residents say they're taking a family vacation this summer. Around 70 percent of these travelers will use their car as the primary source of transportation. For many Americans, a summer road trip is synonymous with the open road, freedom, and peace of mind. Protect your peace of mind with ForeverCar's top five mobile apps for your summer road trip.

Roadtrippers
The only mobile app that lets travelers budget, plan, book, and navigate their road trip is the ultimate resource for your next adventure. The interactive, user-friendly application is growing quickly and boasts over 5 million trips booked to-date. Start your trip this innovative trip planner that lets you budget your costs, book hotels, and uncover great attractions along the trip. Powered by social and digital innovation, Roadtrippers' unique content advises your road crew along the entire route.

The app encourages users to save attractions and destinations along the way. When boredom sets in, your co-pilot can sync the saved destinations to your navigation so you can discover unique attractions that will keep the road crew entertained. You can enhance your summer adventure by downloading the free mobile app on the App Store and Google Play.

GasBuddy
If you have a car full of family and gear, coordinating gas fill-ups can be quite a predicament. Between fluctuating gas prices and urgent bathroom breaks, having a resource like GasBuddy can really prevent a disaster. GasBuddy channels the power of peer review and allows users to update gas prices in real time. The app lets you and your team of road warriors search for the best gas stations based on current location or by a destination along the route.

GasBuddy's user-friendly experience lets you narrow down the best prices and availability in list and map formats. In addition to providing gas prices and reviews, they even suggest the top-rated gas station restrooms along the way, ensuring optimal pit stops for your entire crew. GasBuddy is available for free on the App Store and Google Play.

Yelp
Now that you've found the best place to gas up, it's time to refuel the pit crew. Road trips mean new places, new faces, and new cuisine. That picky-eater in the back seat? No problem. Tired of the standard fast food spots off the highway? No worries. Armed with over 100 million reviews since it was launched, Yelp can guide your crew to the right food spots along the way.

Plan your meals by finding that perfect hole-in-the-wall spot on your next trip or warn future travelers about the restaurant that wasn't quite up to your standards. Since its creation in 2004, Yelp has become the leading source for real-world peer reviews of restaurants, shopping, and services worldwide. Start your reviews today by downloading Yelp for free on the App Store and Google Play.

Instagram
Skip the camcorder and tripod and make the most out of your memories with Instagram. With an estimated user base of around 500 million, Instagram has quickly become one of the most popular social networking apps. Hone your photography skills while making sure your family and friends are caught up by sharing your memories across multiple social media platforms.

Instagram recently added some great new features just in time for summer road trip season:

Instagram Stories allow the user to add fun filters and location tags to disappearing content allowing your followers to track progress along the road.
Multiple image posts let the user create individualized slideshows that can be customized for each stop along the trip.
When that extra special moment happens along the road, jump on Instagram Live and stream it for the world to see!
Join the millions of Instagram users and download the app for free on the App Store and Google Play.

Glympse
Whether you're picking up travelers along the route or letting Grandma track your arrival, Glympse is a sure bet to keep your family and friends in the know along your journey. Glympse provides a fast and simple way to share GPS location with the people you desire for the time of your choosing. "Send a Glympse" of your trip to let your loved ones know you're on the way.

The best part? Recipients don't need to have the app to track your progress. Share your location quickly via email, SMS, Facebook, and Twitter. Customize your Glympse experience in advance so you can avoid breaking any hands-free device laws while driving. Give Grandma peace of mind by downloading the app for free on the App Store and Google Play.

Now that you won't be caught without these apps, make sure you set out on your summer road trip with the peace of mind and protection that only a ForeverCar Vehicle Service Plan can provide. Get your quote today and hit the open road with ForeverCar this summer.