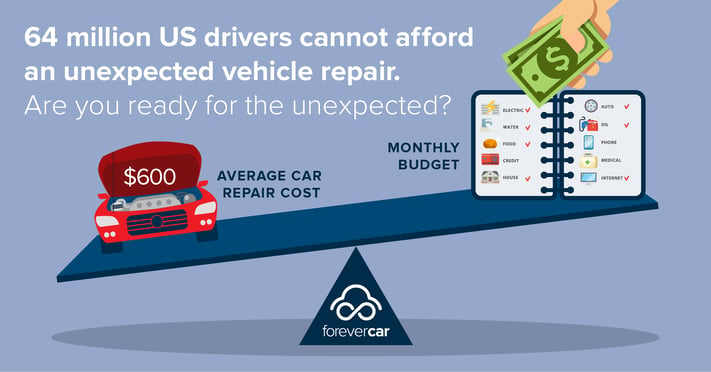 It's all too familiar…
…You hop in the car, put the key in ignition and…
…nothing.
Nothing but a blinking check engine light staring you right in the face. Your heart sinks. That summer vacation you've been planning for months? Gone. Camp for the kids? Nope. That special anniversary dinner out you had planned for tonight? Not happening. It's just you and another unexpected repair. Who do you turn to?
If you're like most Americans, an unexpected car repair can be devastating. And if your manufacturer's warranty is expired, you're on your own. It means reshuffling schedules, waiting for a tow truck and haggling with repair professionals. At worst, it could mean draining your bank account, taking out a short-term loan — or even losing your car. If you're like most Americans, you may have underestimated the full cost of owning and operating a vehicle.
According to a recent study by AAA, the average cost of owning and operating a vehicle is more than $8,500 a year. Many drivers delay or even avoid the standard recommended vehicle maintenance, leading to an increase of unexpected mechanical repairs and breakdowns. With most auto repairs averaging $600, it's no surprise that 64 million US drivers cannot afford an unexpected vehicle repair.
ForeverCar Vehicle Service Plans can provide you the peace of mind you're looking for. With it, when a breakdown occurs, you're covered. We take care of everything from getting you a tow truck and rental, to coordinating mechanic services and payment. All for one low monthly fee. Check out your options at www.forevercar.com.