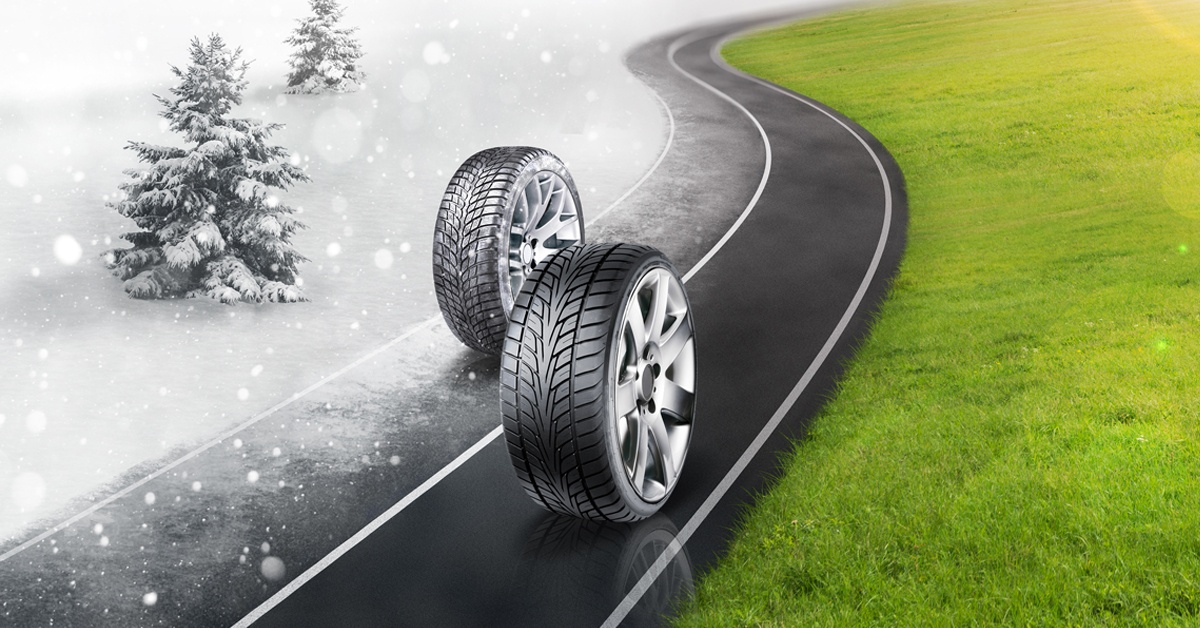 With snowy and wintry conditions blanketing a large portion of the United States, you may be wondering whether investing in winter snow tires is in your future. Let's take a look at the age-old debate of winter snow tires vs. all-season tires and help settle this rubber match once and for all.
In 1978, the National Highway Traffic Safety Administration created the "Uniform Tire Quality Grading," commonly referred to as UTQG. It set the standard for a tire's traction, treadwear and temperature resistance. While tire manufacturers are required to meet or exceed this standard, many auto manufacturers will outfit new vehicles with tires that are only designed to last around 40,000 – 50,000 miles. That means you're likely to be in the market for new tires within the first five years of ownership.
So, you may be asking yourself, "is there really a difference between winter tires and all-season tires?" The answer is… yes. While certain all-season tires possess elements of winter tires, it's important to understand the difference. Let's break it down.
All-Season Tires
All-season tires provide a great combination of comfort, tread life, fuel economy and a quiet ride. These tires can handle many conditions but can compromise some value in extreme conditions, hot or cold. Depending on the vehicle and driver, all-season tires may not provide adequate handling capabilities during snowy or icy conditions.
Protectionator tip: Think of all-season tires like a baseball cap. You can wear the cap year around, but it's not ideal for all situations.
Winter Tires
Winter tires can be perfect for combating conditions ranging from heavy snowfall to black ice. Conditions like these can be a challenge for most tires due to reduced traction in cold temperatures. The solution lies in the specially designed rubber that most winter tires are equipped with.
The rubber is designed to remain flexible during cold and wet conditions, allowing for better grip and traction on any surface. The tread depth and patterns on most winter tires are also conducive to wintry roads as they are designed to funnel snow and slush to the edges of the tire and help repel moisture from edges of the tire. Since winter tires feature higher sipe densities, they posses more tiny little breaks in the tread that help to increase traction.
Protectionator Tip: Get a complete set of four winter tires. Do not mix and match. It will take your engine longer to reach peak temperatures for fuel efficiency during cold weather. This has a greater effect on short trips with a lot of stops and starts.

The Answer
The answer to this debate solely depends on where you live. If you've never seen snow before and spend the winters sunbathing on a beach, winter tires are probably not for you. If snow, ice and long stretches of cold temperatures are in your winter plans, you may be wise to invest in winter tires.

Make sure you do the following before outfitting your car with winter tires:
Get a complete set of four winter tires. Do not mix and match.
Check the UTQG labeling to verify the tire meets the industry benchmark.
Remove the tires during warmer months. This should prevent wear and tear while maximizing the lifespan of the tires to four to five seasons.
ForeverCar understands the important decisions that every car owner faces throughout the life of ownership. Having the right tires at the right pressure during bad conditions can go a long way to a better driving experience. Having peace of mind for the road ahead is invaluable.
For more winter car tips, check out ForeverCARE's previous posts about Cold Weather and Fuel Economy or our Tips for Winter Driving. Be ready for anything on the road ahead with ForeverCar.